Further to my recent trip to Leicester, I got in touch with Fashion Design graduate from De Montfort, Kelli McGuinness, to find out what she's done and achieved since graduating from a Leicester-based uni. I knew of Kelli from her recent success at London Fashion Week and whispers in the fashion world about her growing fan base! I have to say, I admire her a lot as a designer, with her bold attitude towards fur, extravagant designs and her professional approach to design (and her approachable nature- most designers wouldn't give a blogger the time of day!). I was lucky enough to get an interview with her and here is the final result! Happy reading :)
Congratulations on your recent success at graduate fashion week and Milan! Can you give a brief summary of what has lead up to this point in terms of your career?
I have always been interested in fashion and have recently graduated from studying Fashion design BA (HONS) at DMU. In my final year I was successful in many competitions which helped with my exposure as a designer when graduating. I was third place winner in the British Fur Trade Association Fur design competition which lead onto me working with Hockley in London creating my winning design which was exhibited in Milan last week! I have been fortunate enough to have many stylists and fashion bloggers interested in myself and my work, so everything has came from the exposure I have had in the last 6 months :-)
Who do you design your clothes for and who would you love to see wearing your clothes?
I design with expressive, fearless and individualistic women in mind. I feel my clothes enable the wearer to feel free and young, not taking things to seriously and just enjoying life! I love the style of Susie Bubble, I feel she is adventurous, unique and fashion forward and would love to see her wearing my clothes!!
You're fearless when it comes to fur! What gives you the confidence to use such a controversial textile?
I think from having attended a fur workshop at the British Fur Trade Association's head office in London, I gained more knowledge on how to work with such a controversial fabric, that gave me the confidence to use it more in my work.
Which designer can you see yourself as and who are your favourite designers?
I see myself as a Fashion designer not afraid to be different and stand out, I love experimenting with creating my own fabrics and making my work personal and individual in hopes that people fall in love with it as I do with every piece I complete. My favourite designers are Louise Gray, she inspires me with her mix of new exciting textiles, her clashing colours and stand out catwalk outfits. I love the work of Manish Arora, his use of fur is fashion forward and unique, he uses it in a non abrasive way, including it within garments to compliment his desirable and eccentric pieces. Obvious ones are, Prada, Jeremy Scott, Celine, Sonia Rykiel, the list is endless!!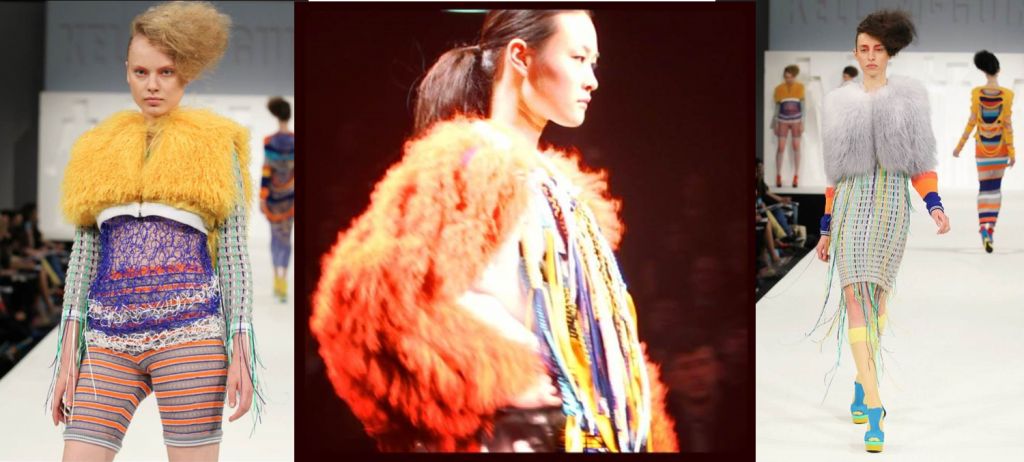 If you couldn't have gone into fashion design,what would you have done?
Throughout my degree we touched upon other aspects of fashion such as, styling and photography, I enjoyed them immensely so probably one of those. I think whatever I would have done it would have been within the creative field, its just who I am :-)
What advice would you give to an up coming fashion designer like yourself?
No matter how many knock backs you get, and times where you feel nothing it progressing, don't give up. If you believe in yourself and your ability, keep going, that's what I tell myself anyway!
Whats next for you? And what can we expect to see from you in the future?
I am working with the International Fur Trade Federation as one of the faces of the Young Fur Traders campaign, part of my collection is on its way to Athens as we speak to exhibit in a fur fair. In the near future I have a few exciting collaborations planned and who knows from there, live each day as it comes!
Special thanks to Kelli for her cooperation and I wish her all the best for the future. Keep in touch! x